Viwinco New Construction
Viwinco Windows has been committed to optimal energy efficiency, a cleaner environment, and year-round home comfort ever since we first manufactured our standard high-performance glass package. This package is used in every window that is produced.
Double-strength low-e glass
Argon-filed
Intercept© ULTRA stainless-steel warm-edge spacer
S-Series is Viwinco's premier new construction line. Single- or double-hung units come standard with:
Superior Insulating Value: standard high-performance glass package features 15/16" double-strength insulated glass unit with low-e, 
Interecept® ULTRA stainless-steel low-conductance spacer, and argon gas fill
Robust, fusion-welded (as opposed to mechanically joined) frame and sashes provides superior strength and a permanent seal against water and air infiltration
Multi-chambered profile provides top insulating value by trapping dead air, adding to the window's energy efficiency
Sash interlock on double-hungs hooks the sashes to each other and to the frame, creating a tight barrier against air, wind and rain
5-degree true sloped sill directs water, dirt and debris away from the window and prevents it from collecting in the sill
Tilt-n-Lock patented technology on hung windows reinforces and adds strength to the meeting rail for structural performance, and makes cleaning easy: open, close and tilt the window in with one hand
Mortised-in, replaceable 1-3/8" high weatherstripped sill dam fights drafts and water infiltration
3/4" stainless-steel constant force balance system never needs adjustment and allows for smooth sash travel, and open sashes that stay in place
Beveled exterior for traditional craftsmanship appearance
Integral J-channel with 1-1/4" nailing fin for ease of installation
Industry-leading DP ratings ranging from DP50 to DP70 depending on style—an air, water and structural designation by the American Architectural Manufacturers Association (AAMA)
Heavy-duty extruded screens featuring Bettervue® screening
Exceptional Lifetime warranty coverage on sash, frame, and hardware materials
White, Tan, and Clay Solid Extrusions

Frames and sashes manufactured in any of these colors for the
interior and exterior of your home
Popular for residential and commercial uses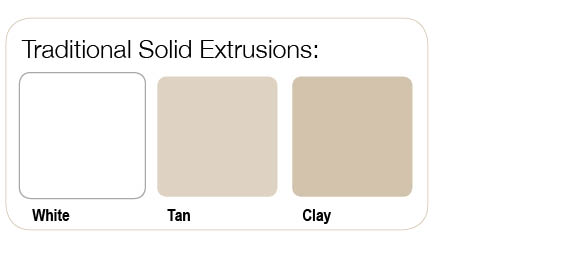 Exterior and Interior Laminates Available on S-Series windows
Exterior laminates: bronze and midnight black
Viwinco Colors
(available with white interior only)
Triple-layer construction for exceptional durability
More robust than paint: won't chip, crack, blister or chalk
Heat-reflective technology for superior resistance to
ultraviolet light and heat buildup
Embossed finish for sustained scratch resistance
Impervious to the damaging effects of moisture and salt:
ideal for coastal regions
For more information concerning our products or services, or to schedule your own personalized appointment with us, contact one of our sales associates at (800) 524-7436.
Or Visit us at one of our convenient locations.