Aluminum K Gutter
Our Nominal .027" Aluminum Rain Gutter Coil is available in 11 3/4" width Mini, 11 3/4" width and 15" width. We also offer Nominal .027" Aluminum boxed gutters, Nominal .019" Aluminum elbows, Nominal .019" Aluminum offset elbows, Nominal .019" Aluminum downspout, box miters, end caps, strip miters, bay miters, joint connectors, slip joint connectors, 5" fascia brackets, roof straps, universal pipe bands, and funnels. We also carry stainless steel screws, caulking, touchup paint, rezist screw, 5" and 6" gutter hangers and 5" and 6" hidden hangers with screw.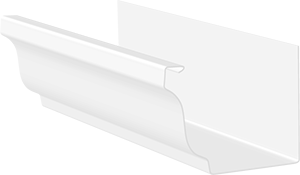 Available 5" K Gutter Colors


---
Call for 6" K Gutter color availability

Almond

Antique White

Ash Gray

Black
Burgundy

Burnished Slate

Clay

Dark Bronze

Forest Green

Grecian Green

Light Stone

Musket Brown

Royal Brown

Rustic Red

Sand

Sandalwood

Sterling Grey

Terratone

Tuxedo Gray

White
*Colors may vary from actual application due to uncontrollable factors such as lighting and monior settings.
For more information concerning our products or services, or to schedule your own personalized appointment with us, contact one of our sales associates at (800) 524-7436.
Or Visit us at one of our convenient locations.